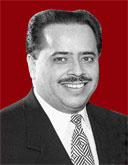 Alfredo Santiago was born in the Bronx, New York to parents who moved to the U.S. from Puerto Rico. He earned his Bachelor's degree at Saint Peter's College in 1975 and his Master's in Public Administration in 1988 from the City University of New York's Baruch College. He is best remembered as a compassionate and effective leader, who had a special talent for bringing people and cultures together.
Throughout his life, Alfredo Santiago was devoted to ensuring that Latino youth had access to an education. Mr. Santiago served as Assistant Dean for Academic and Student Affairs at Rutgers University's Cook campus, was the Pre-College Program Director of Minority Affairs Admissions at UMDNJ's School of Osteopathic Medicine, and was the Assistant Director of Admissions at Rowan University. He also worked at Rutgers–Newark, Rutgers–New Brunswick, and he was the driving force behind the creation of the ASPIRA Center in Camden, New Jersey.
Later, Mr. Santiago became the Director of Development for the Cook College/New Jersey Agricultural Experiment Station at Rutgers and was responsible for major gifts acquisition and development with the Rutgers University Foundation. His efforts helped establish a $500,000 Endowment for the Reich Minority Access Project, which provides scholarships for African-American and Latino students. He also led efforts to establish the Ramon Emeterio Betances Latino Scholarship and secured a major endowment for the Stephen and Lucy Chang Science Library.
Alfredo was very active in civic and professional organizations throughout the state and he received fellowships from the National Society of Fund Raising Executives (NSFRE) and the National Urban Fellows Program. He was a member of the Board of Directors of the NSFRE (now the Association of Fundraising Professionals), a member of the Princeton Area Planned Giving Council, and an associate member of Hispanics in Philanthropy. He also was the chairman of the Advisory Committee of the Center for Hispanic Policy's Department of Community Affairs, the Chairman and founder of the Camden County Hispanic Advisory Commission, and an allocation panel member of the United Way of Camden County.
Through the Alfredo Santiago Endowed Scholarship Fund, his family, friends and colleagues are keeping Alfredo's legacy and deep commitment to student development alive for many generations to come.