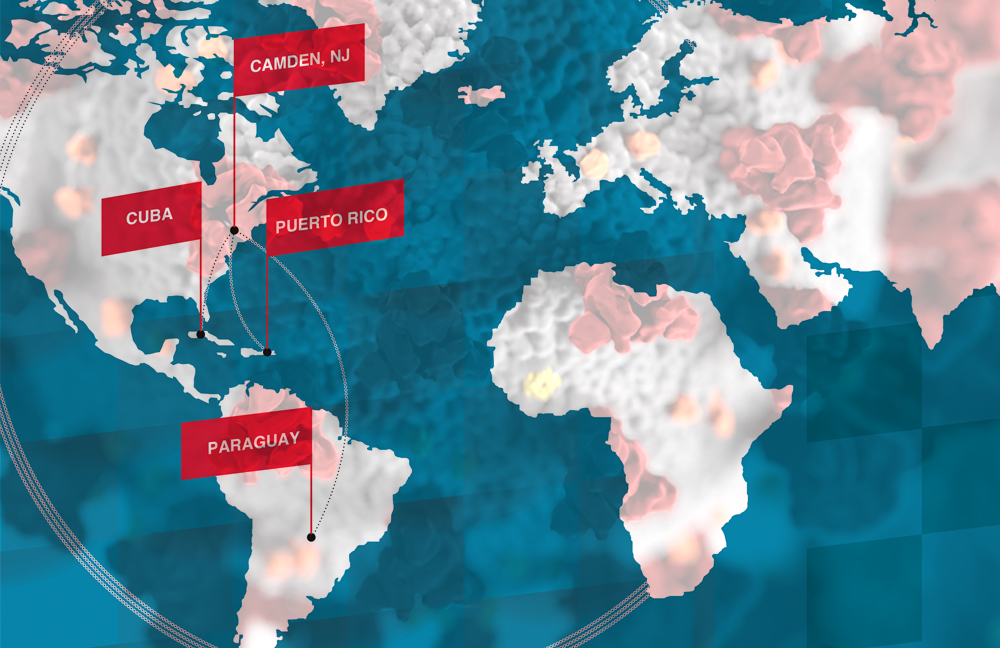 The global pandemic spread of COVID-19 will have a profound impact on all sectors of society and will underline the reality of living in a world that is interconnected and interdependent.   Local approaches will have significant impact on the global response for mitigating the effects of this virus, ​as policy makers observe and evaluate other countries' efforts to reduce the spread of the virus and realign the deployment of resources to affected communities.  COVID-19 presents tremendous challenges to human health and the economy, and brings to light the patterns of social and political dynamics in place to preserve the "common good" as a fundamental priority of governments.   
Universities are placed at the epicenter of this pandemic as institutions of higher education and as engines for innovation, research, capacity-building, and solution-generation.  The CLC has been engaged in a number of efforts that bridge the local-to-global connections, and is reframing its ongoing programs to focus on the COVID-19 pandemic as a common denominator impacting our collective work.   We maintain our local involvement with the infant through college educational pipeline along Cooper Street in Camden, and continue to collaborate with ongoing efforts in Paraguay, Puerto Rico and Cuba. This pandemic urges us to explore our collective needs and to hold a dialogue about the most effective strategies for stabilizing communities and allocating resources to the most vulnerable populations in our countries.  
The following public programs have been reframed to address these new challenges:
Camden – Our Zone of Practice
Through the Early Learning Research Academy (ELRA) we have continued to serve children (ages 0-5) and families by delivering remote learning for our children and engaging our Family Workers to collaborate with families as they travel these difficult times.  Teachers and instructional support personnel have shifted their teaching to online interactive activities that replicate what children experience in classrooms every day.  Rutgers JumpStart students are supporting these efforts by recording songs and video projects that children can engage in.   To learn more about these lessons and watch videos check out the ELRA website or see the stories that the Rutgers CLC post to social media.
The LEAP Academy is providing daily remote learning experiences to all students.  Teachers plan remote learning lessons and upload into OnCourse Systems for Education.  Special Education and ESL teachers plan their lessons in collaboration with the regular education teacher with additional supports for the students and the parent.   Teachers are following a coordinated schedule to ensure that at least 4 hours of remote instruction is conducted daily.    Dual enrollment and college access students (HS seniors) will continue implementing the instructional online plan already delineated by the College Access staff.    Computers are being distributed to students (if students are in need of a computer) and parents.  780 students have been provided for students to take home.   
The Early College program at LEAP has reconvened and students are continuing to meet virtually with their instructors at Rutgers and Rowan. We continue to receive more and more good news of college acceptances, scholarship awards and other academic achievements. To keep up to date with all of these important updates showcasing our student's success please visit the LEAP Website (LINK) or see the stories posted to the Rutgers CLC and LEAP social media accounts.
PUBLIC PROGRAMS THROUGH THE GLOBAL PARTNERSHIPS
Paraguay
The Community Leadership Center continues its important work with the Universidad Nacional de Asuncion and USAID to develop the Higher Education Center for Ethics, Equity and Transparency in Paraguay.  A webinar themed "Ethic, Equity and Transparency in Time of Crisis" will be held on April 22 from 10-12 pm using a virtual platform. This lecture will focus on the COVID-19 pandemic from a perspective of ethics and equity. An equitable response to COVID-19 needs to ensure that information about the virus, access to services, service disruptions, and other aspects of the response to the outbreak are readily available and accessible to all.
Cuba
The Community Leadership Center welcomes Dr. Luis Alberto Montero Cabrera, from the Academy of Sciences of Cuba, as the featured speaker for the upcoming Lecture Series. He will discuss Science Collaboration as an Opportunity for the US and Cuba: A Case for Addressing the COVID-19 Pandemic on Friday April 24th, 9:30 am – 11:30 am via web portal.This lecture addresses the potential advantages of a collaboration between Cuba and the United States in the field of science to advance our understanding of various areas of study. The health and economic crises provoked by the COVID-19 pandemic are taken as a case of real opportunity for sharing knowledge between the countries. While working diligently to contain and address the devastating effects of the virus, scientists observe multiple opportunities for innovation through international collaboration. It is important now more than ever that we bring together talented, motivated, and concerned scientists to communicate ideas, learn from each other's research and develop shared values. To learn more information about this Lecture Series Click the HERE
Puerto Rico
The Community Leadership Center is working with the LEAP Social Enterprise and LEAP STEAM +  E, Puerto Rico to sponsor a seminar entitled Educating the Community School in Times of Crisis: COVID-19 on Thursday April 23rd, 2020 from 10:00 am – 4:00 pm. Due to the COVID-19 situation, the LEAP STEAM + E, Puerto Rico will be hosting a webinar training for leaders of the Sabana Llana Community. The center will provide training that seeks to empower leaders of the community. This webinar training will encourage leaders to become advocates for their schools and community. In addition, during the summer or fall of 2020 community leaders of Sabana Llana will visit the facilities of the LEAP Academy University Charter School, located in Camden NJ, and will meet with various stakeholders that have been involved with the LEAP project since its beginning. For more information please Click HERE